Compounded Veterinary Medications
NewEra Pharmacy specializes in providing personalized compounded veterinary medications for our animal friends.  Our highly trained compounding team works closely with many veterinarian clinics to help meets the needs of all our veterinary patients.
Our state of the art and accredited compounding facility allows us to provide many different compounded veterinary medications.  Some of these medications include topical and oral methimazole, prednisolone, metronidazole, doxycycline, gabapentin, buprenorphine, tacrolimus, and many others.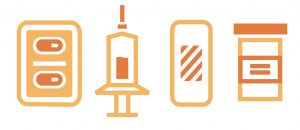 Prescription Veterinary Medications
We can compound many different strengths and formulations of all our veterinary medications.  We also have the ability to tailor these compounded medications to your specific animal needs in terms of dosage forms (capsules, drops, suspensions, creams, gels, suppositories, chewy treats, and many others).  Please contact our pharmacy discuss any of your potential veterinary medication needs.
These medications all require a prescription from your licensed veterinarian.
All veterinary medications vary based on the formulation and dose. Please contact us to learn more.